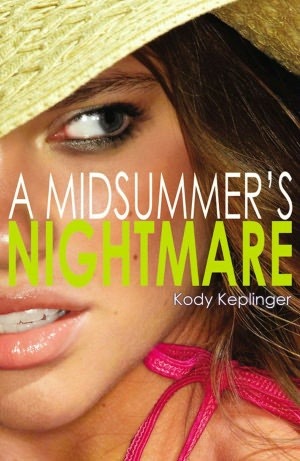 A Midsummer's Nightmare by Kody Keplinger
Genre: Young Adult | Romance
Pages: 304 (ebook)
Published: June 5th 2012 by Poppy
ISBN: 0316202126
ISBN-13: 9780316202121
Rating: 3 and a half hearts (4 stars in Goodreads)
Blurb:
Whitley Johnson's dream summer with her divorce dad has turned into a nightmare. She's just met his new fiancee and her kids. The fiancee's son? Whitley's one-night stand from graduation night. Just freakin' great.

Worse, she totally doesn't fit in with her dad's perfect new country-club family. So Whitley acts out. She parties. Hard. So hard she doesn't even notice the good things right under her nose: a sweet little future stepsister who is just about the only person she's ever liked, a best friend (even though Whitley swears she doesn't "do" friends), and a smoking-hot guy who isn't her stepbrother...at least, not yet. It will take all three of them to help Whitley get through her anger and begin to put the pieces of her family together.


Filled with authenticity and raw emotion, Whitley is Kody Keplinger's most compelling character to date: a cynical Holden Caulfield-esque girl you will wholly care about.


My Thoughts
Though, this younger author only has a few books, she already has made a name for herself and reaches new readers with each book. Her most famous novel (
The Duff
) is up to a movie starring Bella Thorne, Robbie Amell and Mae Whitman, due to February 20th. I haven't read this one but I did read
Shout Out
, which I like very much and recommend to each teenage girl and boy out there because it has an awesome massage about school, sex, genders role and women own values in society.
Kody Keplinger surprises me once again. This read is far away from her previous teenage dramas. The principal reason is because it was focused on summer and not in the regular school time, so here's not the regular school's drama. A Midsummer Nightmare is about a girl who is yearning for parental attention. Her mother is a wreck, bitter women who can care less of what she does. And her father is a mid age crisis man who traits her more like drink buddy than a real dad.
So, she just go out high school, had a great time on the graduation party, hook up with a handsome guy and drink her own weight in beer. She just swore herself she would never seen the hot guy again; how wrong she was? Well, so beyond wrong. It turns out he is her soon-to-be stepbrother and it's not good to be hot for a stepbrother, right?
I don't want to tell too much about the characters in this novel because I don't want to spoil over, but I have to say they were very different of what I thought they would be. In a very good way. I liked Whitley the most. It's not usual to have a character like her. She is very much complex, I mean, she is a total bitch who doesn't care anything and make bad things because it simple for her, but through the story developing she shows a new side of her personality and shows that she care and everything isn't that easy.
Maybe my explanation seems the same as other say about other characters but when you read through her mind the situations that been unfold around her you get what I'm saying. She is very dimensional, has some many to give to the reading and you could easily can feel for her and relate to her even if you haven't experience anything such as resemble as her situation.
The plot of this book is quite original, I mean, stepbrothers? That's so great. But hey, don't get me wrong, it's just so awkwardly fun. And it also has lot of humor and feels. The drama in it is very, I don't know how say it, emotional, maybe? It made me sick and angry and so bad for her. I really hate her mom and dad. Who could do that to they own daughter? They don't deserve any her compassion at all.
Maybe I feel bad because it fall to close to home for me but even so, I can't understand how parents could fall their sorrow and sadness and never have the courage to watch their kids and give them the love they need. I mean if you won't take your responsibility seriously DON'T HAVE children. How hard is that to understand? That way the world is full of bastard and bitches.
Way I'm giving it 3 and ½ Hearts?
Because it doesn't stand out. I can easily read it and wouldn't mind it again if I don't see it in my shelf anymore. What I could possibly remember is the fact that I hate her parents and just because that kind of things affect me but anything else.
Overall, I think is very entertaining read with lot of emotions and great characters. But it doesn't stand out to be memorable enough. I recommend it to anyone who wants to spend good time and just that, I mean this could be a quick read to complete a challenge or just when don't have anything else to read.
About the Author
I'm a 19-year-old college student and young adult author. My first book, THE DUFF, debuted on September 7, 2010. I write books for teenagers and strive to be honest and true-to-life.