I've been part of the
#CovenantReadathon
this week celebrating the release of the spin off of the series, The Return by Jennifer L. Armentrout. So, now I'm going to share with you the reviews of the five books plus two novelas, one of which I already posted the review (Daimon). Check below!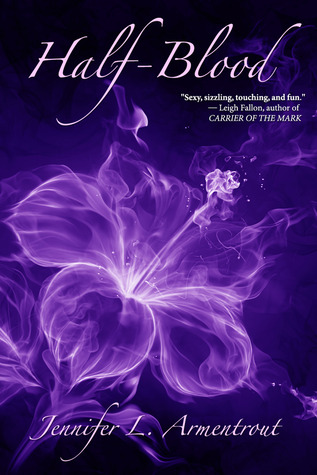 Half Blood (Covenant #1) by Jennifer L. Armentrout
The Hematoi descend from the unions of gods and mortals, and the children of two Hematoi pure bloods have godlike powers. Children of Hematoi and mortals--well, not so much. Half-bloods only have two options: become trained Sentinels who hunt and kill daimons or become servants in the homes of the pures. Seventeen-year-old Alexandria would rather risk her life fighting than waste it scrubbing toilets, but she may end up slumming it anyway. There are several rules that students at the Covenant must follow. Alex has problems with them all, but especially rule #1: Relationships between pures and halfs are forbidden. Unfortunately, she's crushing hard on the totally hot pure-blood Aiden. But falling for Aiden isn't her biggest problem--staying alive long enough to graduate the Covenant and become a Sentinel is. If she fails in her duty, she faces a future worse than death or slavery: being turned into a daimon, and being hunted by Aiden. And that would kind of suck.
My Thoughts
The first books of each series have been always my favorites. There's many reasons but the principal is that I find in these first book a well telling story, when everything fits as it suppose to fits. I think that through the developing of the series things get complicate for authors and some of them really ruin what they have created in the first installment.
The curious about this book is that, it absolutely my fav of the series but also it does have few things that you probably find on other series like Vampire Academy. At some point you find few similarities with VA but at the same time you enjoy this stories because it very different from others. The whole Greek theme is wonderful and the way the characters are represented is marvelous.
What I always have like the most about Jennifer L. Armentrout writing is the characters. She's incredible with characters, she made them believable, she made us connect with them and doesn't matter what any of them do during the book, and we still love them in many ways. She's so talented creating characters and I can't help myself but enjoy them.
This book isn't the exception. Alexandria is a wonderful female lead; she gives so much to the reading, starting with the fact that she is very different from Katy from the Lux Series. Alex is a totally kick ass, she doesn't leave any one tell her what to do or how to act. She has her own personality, a strong personality, that both, give her succeed and also get her into LOT of troubles.
Aiden is marvelous here as well. And I like to have a character like him so badly because Jen often write males like Daemon (
Lux
) or Roth (
Dark Elements
), who are bad boys. We needed so badly a good boy to fall in love with. Aiden is controlled, responsible, and smart, he could be funny but in a tender way. I just love him. He's the good guy each girl wants to have.
Of course, Jen also have to give us a bad boy, so there's when Seth enters in the picture. He doesn't give a crap for anything and he's funny on his own way. Although, I don't like him like I like Aiden, I think that he was introduce just to shake things between Aiden and Alex even more or just to make them to be together. You know as "If I don't have you nobody can't" way. Seth was OK but just that.
Overall, I love this book and I think that was wonderful as introduction of this world of Gods. Of course, the Greek Mythology is just a plus since I LOVE it so much. I totally recommend this book to everyone because is another of the gems from Jennifer.
5 HEARTS
Absolutely
Half-Blood by @JLArmentrout is one of the best book I've read so far. Emotions, action and romance. The perfect match for the perfect book.
About the Author
# 1 New York Times and USA Today Bestselling Author Jennifer L. Armentrout Lives in West Virginia. All the rumors you heard about her state aren't true. Well, mostly. When she's not hard at work writing, she spends her time, reading, working out, watching zombie movies, and pretending to write.