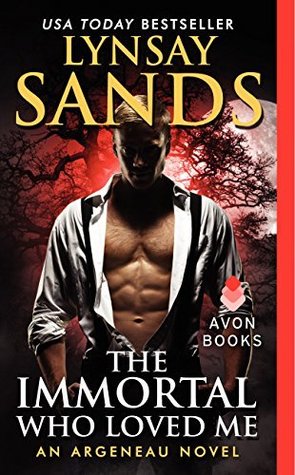 The Immortal Who Loved Me by Lynsay Sands
Series: Argeneau #21
Genro: Paranormal Romance / Vampires
Pages: 384 (ebook)
Publication: February, 24th 2015 by Avon
Synopsis:

A few hours ago, Sherry Carne would have sworn that vampires didn't exist. That's before rogue immortals rampage through her store, leaving bloody chaos (literally) in their wake. The kicker comes when Sherry learns that one of the vamps on the bad guys' trail may be her life mate. Her head says it's impossible. The rest of her takes one look at Basileios Argeneau and has much more interesting ideas.
Whatever Basil expected in a life mate, funny, outspoken Sherry isn't it. But mind-blowing chemistry and instinct don't lie. They tell him something else, too—that Sherry's connection to the immortal world goes deeper than she knows. And that she's in the kind of danger only Basil can save her from—if she'll just trust him, now and forever . . .
You can check the Spanish Version of this
Review
The Argeneau
series has been one of my favorite series of vampire. I like the science twist that Lynsay Sands give it to it, and the action aspect of all the books. I like specially the fact that all books are very original and each one of them is very different from the previous, the previous of that, and the previous of that. However, the last book of the series isn't my favorite or at least the last part of it.
The Immortal Who Loved Me started very good. The first thing we find is Stephanie (who we meet previously on The Immortal Hunter) who enter like a storm in Sherry's office escaping from the rogue vampire that has been the bad guy the last couple of books, Leo. Then, when both girls try to help the people on the store, thing goes awry and they have to escape, from where they find the Rogue Hunters who can help them, not before Leo can take a pick of Sherry's face. You know that will bring troubles a little later. After the running away from the danger we see how Basil and Sherry relationship started to grow. Everything developed quite well until the half of the book.
What I like about this book is the first half of it. I think it was exciting, full of action, and with a very good plot that started develop very well. All that seemed interesting and there was a mysterious air to what we could find, what Leo will do to find Sherry and how that will affect Stephanie.
Speaking about Steph, I have to say that I love her character. I feel so sad about what she's passing through but I believe that with the help of Elvi and Victor (and all the others), she will do great. But I really wish to read a book about her, I think she deserve a happy ever after story because she is a great kid, different from those we read about in other books. And she needs it, before it too late for her.
I LOVE that Lucian showed up more on this novel. He's my
favorite Argeneau
so far and I'm happy he's still the same old immortal Lucian. I never got tired of him. I also like the parenting plot Lynsay develops into this book, just as I said about the original of her stories; we can very well see it in that. I think was perfect to add that drama on it.
By other hands, what I didn't like about the books was the other half of it, which turned out into a rushy story, with clichés and boring. That never happened to me with any Lynsay's books before; I don't know how to take it.
1. - How Leo's story turned out. I believe that that was too rushed for my taste; I really wish that Lynsay would have written it better, makes it less bloody and with more action.
2. - Have you notice that I haven't speak about the main couple? Well, is because I didn't like it as much as I wish. The story was very much cliché, and I couldn't stand the insta-love this time. Let me explain, Argeneau series does have an insta-love but the fact that happen so many things in them and that the author writes them so well I never care about them. But this time was different; I think that the story was so rushed that I never actually believe that Sherry and Basil could possibly be together. I needed more about them, not only a talk about their past.
3. – The last aspect I didn't like is part of the previous but not the same. I wish that Basil story would have been deeper. I never truly felt a connection with him (or Sherry for that matter), I expected him to be just as close as Lucian's personality because that was said on the book, but even when I like that that wasn't the case (because I like that Basil is more lay back, it does fit into his personality), I didn't reach something that could make me sensible for him, not even his sad story about wandering the world with no mate and having kids so to full that spot.
I expect more from the upcoming book which will be featuring Bricker, and if you have read the previous books you know he's always messing with everybody, so I look forward to it to be fun. I won't just drop an ax to Lynsay's head and stand to never read any other of her books, because she never let me down before, but I truly expect more from her.
Overall, I have mixed feeling about this book, I like the first half but the other was lacking of something. I think that trying to collide the love, action, humor and all those great aspect of the previous books of this series didn't worked as the author could thought. I feel that when it did start with a great plot, there was a need of a glue that kept it together until the end.
3 HEARTS
No
The Immortal Who Loved Me by Lynsay Sands doesn't have the charms that the previous have. It was crealy half good- half bad.
LYNSAY SANDS is the nationally bestselling author who is known for her hysterical historicals as well as the popular Argeneau/Rogue Hunter vampire series. With her witty and charming personality, Sands describes books as, "Waking dreams or stories, tales to amuse, entertain and distract us from everyday life." She's been writing stories since grade school and considers herself incredibly lucky to be able to make a career out of it. Her hope is that readers can get away from their everyday stress through her stories, and if there are occasional uncontrollable fits of laughter, that's just a big bonus.