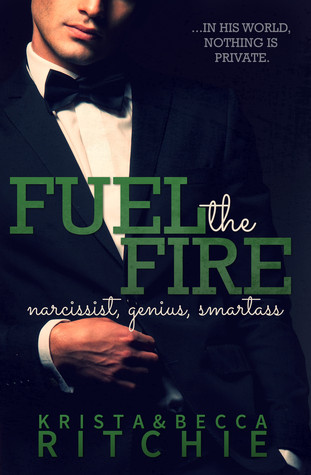 Fuel the Fire by Krista & Becca Ritchie
Series: Calloway Sisters #3 / Addicted #3.1
Genre: New Adutl / Contemporany Romance
Pages: 462
Publication: April 2nd 2015

Synopsis:
Protect your family. At all costs.
It'd take the impossible to hurt Connor Cobalt, even for a moment.
Protect your family. At all costs.
At twenty-six, his narcissistic tendencies have made room for the people he loves.
Protect your family. At all costs.
And he loves Rose. But when his love is threatened, when his greatest dreams with her are compromised — what is the cost then?
Protect your family. At all costs.
Love will guide his choices.
For the first time in his life.
**AUTHORS' NOTE**
It's possible to only read the Calloway Sisters spin-off series without reading the Addicted series, but you MUST read Hothouse Flower (Calloway Sisters #2) before reading Fuel the Fire (Calloway Sisters #3).
It's highly recommended to read the books in the recommended reading order, which is in tangent with the Addicted series. If you choose not to read Addicted After All before Fuel the Fire, there will be a time jump.
Fuel the Fire picks up in the Addicted Timeline where Addicted After All ended. FTF will not retell past events from Addicted After All in Rose & Connor's POV. All new material.
I don't want to speak too much about this book because I have mixes feelings with it. Two facts about it (just getting into the Connor and Rose mood) is that a) I like it a lot and spend a great time read it, but b) There's an aspect that shocked and even when I understand it, I really don't know how to react to it.
If you haven't read
Kiss the Sky
and
Hothouse Flower
, please, don't read this review because it probably it will has some spoilers, specially form KTS. Beware yourself.
Fuel the Fire is the third installment of the Calloway Sisters series and the 3.1 installment of the Addicted series, here's the second part of the story of Rose and Connor Colbat when they're already married and as parents of the lovely Jane. But not everything is wonderful because the media is over them to get the exclusive of their most dirty secrets. But when a deep secret is revealed, Connor will do anything to protect his family without measuring any cost.
I love it all; the characters for instant were very true to their personality of what I've seen on the previous books, Rose and Connor was still their own and I never cease to like them. I like the plot and how the story was developing because it was their closing, so there need to be closing all their previous issue to actually have a happy ending or almost get their goals, so I'm very happy with that. I also like the romance so much, #coballaway relationship is definitely a relationship goal, I enjoy their time together and how they support each other, share pretty moment. Everything they have is beautiful and wonderful.
What I will say right now may be consider as a spoiler, though I will try very hard to not give anything away. What it shocked me, was the whole issue with Connor, I don't know how to react to it because Connor was so perfect for me; maybe that's way I feel this way. I truly respect everybody, their likes and I never will push someone away because I don't share the same things as them, but in this case I never saw it coming, even when it actually fit in his personality, but I'm still in shock.
What it bothers me is that isn't fair for Rose to experience that, I know that even isn't Connor's fault but is just that I think that if that happened to me, I think that I would be angry. Maybe, I'm just angry with the media after all, because they're attacking good people that don't deserve it. And it probably touches to close to home because I studying journalist, and I can't conceive destroying the life of someone just to get the exclusive of something like that. But through all of this, I'm so happy and proud that Rose sticks to Connor and support him when he needed the most.
Overall, this book just represents the beauty of friendship, family, and the love of our life. I'm really happy to have read it because it does show how important is to be around people who care about you and will be there when you need them, true friends. I really recommend this book and the previous books of the Calloway Sister series, and while I haven't read the Addicted series, I think they would be good just as this one.
Rating
4.5 HEARTS
Will I re-read it?
Probably
About the Author
Krista & Becca Ritchie are New York Times and USA Today bestselling authors and identical twins—one a science nerd, the other a comic book geek—but with their shared passion for writing, they combined their mental powers as kids and have never stopped telling stories. Now in their early twenties, they write about other twenty-somethings navigating through life, college, and romance. They love superheroes, flawed characters, and soul mate love.
They are the New Adult authors of the Addicted series and Calloway Sisters spin-off series, and you can find them on almost every social media, frolicking around like wannabe unicorns.
You cand find Them here: