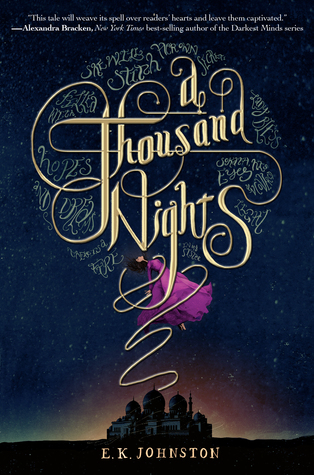 A Thousand Night by E. K. Johnston
Genre:
Fantasy / Young Adult / Retelling
Page:
336
Published:
October 6th 2015 by Disney Hyperion
Rating: 4 HEARTS
Synopsis:
LO-MELKHIIN KILLED THREE HUNDRED GIRLS before he came to her village, looking for a wife. When she sees the dust cloud on the horizon, she knows he has arrived. She knows he will want the loveliest girl: her sister. She vows she will not let her be next.
And so she is taken in her sister's place, and she believes death will soon follow. Lo-Melkhiin's court is a dangerous palace filled with pretty things: intricate statues with wretched eyes, exquisite threads to weave the most beautiful garments. She sees everything as if for the last time. But the first sun rises and sets, and she is not dead. Night after night, Lo-Melkhiin comes to her and listens to the stories she tells, and day after day she is awoken by the sunrise. Exploring the palace, she begins to unlock years of fear that have tormented and silenced a kingdom. Lo-Melkhiin was not always a cruel ruler. Something went wrong.
Far away, in their village, her sister is mourning. Through her pain, she calls upon the desert winds, conjuring a subtle unseen magic, and something besides death stirs the air.
Back at the palace, the words she speaks to Lo-Melkhiin every night are given a strange life of their own. Little things, at first: a dress from home, a vision of her sister. With each tale she spins, her power grows. Soon she dreams of bigger, more terrible magic: power enough to save a king, if she can put an end to the rule of a monster.
My Thoughts
I have mixes feelings about this book because there are so many good things on it but it also lacks of something to really work for me. The premise started like it was a retelling of A Thousand and One Nights but it actually far from a retelling because it becomes a new story altogether at the end. Besides, the messages that are into the book are so strong and powerful that really impact after finished.
A Thousand Nights tells the story of a normal dessert girl who give up her life to save her beloved sister to end death after marrying to the deadly king, Lo-Melkhiin, who had already killed three hundred girls. She would do anything to protect her family and free the kingdom of the horrors that are about to happen.
This is a huge feministic book because it shows how women, even from that time, can make the difference of how things could be make and see the female rol; she never give up on her believes and, especially her family. She did everything to protect her sister and other women of Lo-Melkhiin's court.
The writing style was so beautiful; it has that traditional air, but it could be heavy for young readers and that's one of the reasons why I can't prize it highly. That's because there are no names on the book, the only one with are given is Lo-Melkhiin but others are just my father's father's father, my sister, my brother (I still don't know how much brothers she has), my sister's mother and that's go on; maybe after read it one time we can let it pass but it prolong through the whole book and that's so annoying and boring to find.
But this book is so different from what I normally read that I never expect it but in a good way. Though, the other two things that I found wrong about A Thousand Nights are: a) that it's boring; the story unfold so slowly and the action happened on the lastly 15 pages of the book, it left me waiting more because I was so tempting to stop the reading, but I wanted to know how everything would end so I make myself keep with it. And b) because I'm not happy with the romance part, not that it need to be a important thing of books, actually romance doesn't have to be there at all, but at the end, it was important for the book and mistune with everything that was happening. He was mean with her throughout the entire book and I just can't understand why she would accept him at all.
In conclusion, this was a good book that centers into the family bonds and how much important is to fight for the right things. But it's also a low piece that only if you have patience with it, you may enjoy it. The writing style by its own is a good reason to get this book, hope the upcoming (releasing this year could improve). P.S. The cover is one of the most beautiful I've ever seen, I love it so much!
About the author
E.K. Johnston had several jobs and one vocation before she became a published writer. If she's learned anything, it's that things turn out weird sometimes, and there's not a lot you can do about it. Well, that and how to muscle through awkward fanfic because it's about a pairing she likes.