You're the One That I Want
by
Giovanna Fletcher
was a rollercoaster of emotions between Maddy and Ben, but into those horrible moments of desperations between the right thing to do and follow the heart desires, there were moments when the food was very important for each character of this book. From sitting together during lunch in the cafeteria as kids when they first met to the last banquet in the wedding, food was very important in this novel because was actually, when they were eating, that the really big news were delivered. I pick up as my first The Bookworm's Kitchen (afar for my previous featured recipes) one plate that has all the weight of this story: Spaghetti Boulogne from the French restaurant La Ferme des Beauveis.
When Maddie, Ben and Robert went to Paris the first time as teenagers in a school trip, the last night of that trip, the whole bunch of kids dinner in a French restaurant and ordered Italian food (I don't understand it either), then they all started to dace and a very romantic moment happened between two of the characters. Few years later, a proposal was made at this same restaurant after ate the same Spaghetti Boulogne; which was all romantic, I may say myself, if my future husband could make something that romantic and considering I would no doubt say yes.
So now, I'm sharing with you this delicious recipe of Spaghetti Boulogne; if you want to make it more French, so you know keep the air of Paris to match this book, you can accompanying, as Ben, Maddie and Robert did on their trip, with French bread and some lovely French wine.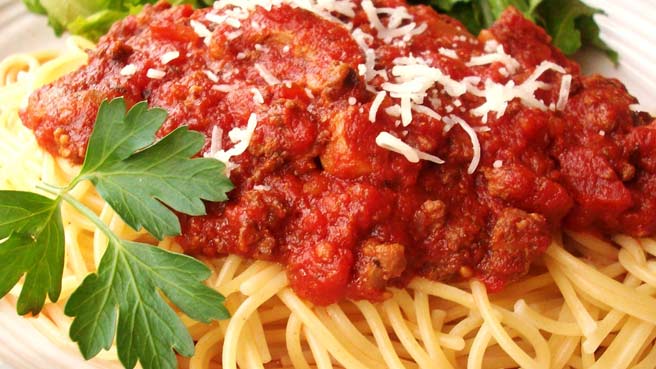 Ingredients
1 lb of ground beef
1 lb of ground veal or lamb
1 tablespoon of olive oil
1 tablespoon of butter
1 onion (chopped)
4 cloves of Garlic
¼ cup of red wine
2 carrots (peeled and slice)
1 to 16 oz can of whole tomatoes (not waste the juice)
Salt and paper to taste
1 pound of Spaghetti pasta
Parmesan cheese (lot of it)
Method:
In a saucepan, brown the beef and veal or lambs (the one you choose, can be use the two as well), and reserve for late. In the same pan put onion and garlic with olive oil and let it cook until the onion get translucent, then add the red wine and let it reduce by half. Add the tomatoes as a puree with the juice (Italians use can tomatoes from their sauce so don't be worry about it), the carrot and the reserved meat. Simmer for about 1 ½ hours. Salt and pepper to taste and done. You know while you do all this you made the pasta add it on salted boiling water to cook al dente. Serve with parmesan cheese.